Our amazing students have beautiful stories that inspire us. One of them shares a beautiful story of how a 4-year spiritual journey took her from the country of her birth (USA) to a different country to becoming Royalty in West Africa. Tene Coffields Park, a native of Delaware, took a DNA test, turns out she's 100% that queen.
As much as we do the teaching in the classroom, we also learn from our students. Their connections with and love for the African continent inspire us.
The Ayekoo Afrique Podcast returned with a fresh new episode on Monday, after a 7-month hiatus. Hosts Reynell Okine and Ore Adesina had a special guest on the episode. A developmental Queen-Mother in Accra, Ghana, and a student of the Ga language with Ayekoo Afrique. She is Naa Odey Tene Parks. How did this African American woman become queen?
Here is how it went. Listen to the full episode on Spotify or listen in browser.
Hi Manye! We'd like you to introduce yourself to our audience. Who's Naa Odey Tene?
Naa Odey is my given stool name as a regional queen-mother in Ghana. A name that means "Royal daughter on her throne".
Speaking of Ghana, we noticed you've formed such a huge bond with the Ghanaian community. Can you tell us how this came about and why you chose Ghana?
I didn't choose Ghana. Ghana chose me.
It's been a spiritual journey for me. I started researching my family tree in 2017 and I felt this nudge — that I now know was from my ancestors — to go to Ghana, even though I didn't know anything about Ghana nor anyone living there.
My sister joined me on a trip to three West African countries: Ghana, Togo, and Mali. A lot of spiritual things happened on that journey and when I came back to the USA, my DNA tests revealed that I have ancestry in all the three countries I visited and Ghana had the most percentage.
You have a very beautiful royal attire, Naa Odey. What part of Ghana do you reign over and how did you, an African American woman become queen?
I'm the developmental Queen in Ablekuma, Odumase; a town in Greater Accra.
Backstory: On my many trips to and from Ghana (I'm addicted by now), I became friends with someone I met in 2018 who eventually introduced me to his family.
He explained my story to them; the spiritual journey I was on and how I buried my grandmother's ashes in Ghana. After hearing about my story, they believed strongly, that I was sent to them by the ancestors.
This led to them adopting me and my sister into their family. And offered me the title of "Queen-Mother of Odumase" to honor the ancestors. So that's how that came about.
How have you been received by the people? How do you feel amongst them?
When they call me "Manye" I feel like a Queen. I feel like I'm floating on a cloud. They show me so much love and care. When I stayed in my community this past May, the men who carried me on their shoulders in 2019, repeated the gesture again. They went "That's the Queen Mother! That's the Queen Mother" as they brushed my feet and wiped my shoulders as a sign of respect.
They assured me that they'll be there for me anytime I need them. I was just so happy to experience that love from the community.
If you were to describe the Ga community in three words, what would they be?
Togetherness, Close-Knit Community, and Supportive.
They've shown me so much support. Anything that I've needed and want to do with the community, they all come together. The whole community shows up when I'm there.
The stories you've just told us are a clear example of how things are done on the continent and how much love is shown toward natives and foreigners alike.
When I'm in Accra, it's important for me to show everything that I see and encounter for my people back home (USA) to see. Because the brainwashing is so terrible and prevalent that I have to show my own story (through videos and photos) so that people will see that we can't believe the false narratives about Africans.
We've all been sold lies, on both sides of the ocean. So when I'm in Accra, I go live on social media. I showcase all the love I experience there just to prove to everyone, that–
Yes! our African brothers and sisters do love us.
We can come together, we can unite, we can do things together. And we can build together.
I signed up to build a community center. Even though it seemed difficult at the beginning, everyone has backed the project. I have gotten support from my community on both sides of the ocean and we are all building this community center.
I want this to be an example of the fact that Africans and African Americans, can come together and do wonderful things.
In West Africa alone, there are over 500 indigenous languages. How did you decide on learning Ga as a language?
One of my biggest fears before taking the trip to West Africa was about how I'd communicate with the people. I didn't know how many people spoke the English language. But when I arrived, I realized everyone could understand me and once I showed interest, the people were more than happy to share their language with me.
And this was what encouraged me to reach out to Ayekoo Afrique and learn the language officially. The smile on their faces is priceless when I just try!
So for me, learning Ga is to make my ancestors and elders proud of me.
How would you describe your language lessons with Ayekoo Afrique so far?
I used to say Reynell was a strict teacher. Sometimes I would say "Oh! Why won't he just let me move on". But I realized his methods were effective and he was only strict out of love. To ensure that you are getting your money's worth and not playing around.
We are fascinated by your story and journey with the people of Ghana. Would you consider settling in Ghana one day?
Yes, I have decided to settle in Odumase eventually. They've given me land and all the legal documents have been signed with my name on them.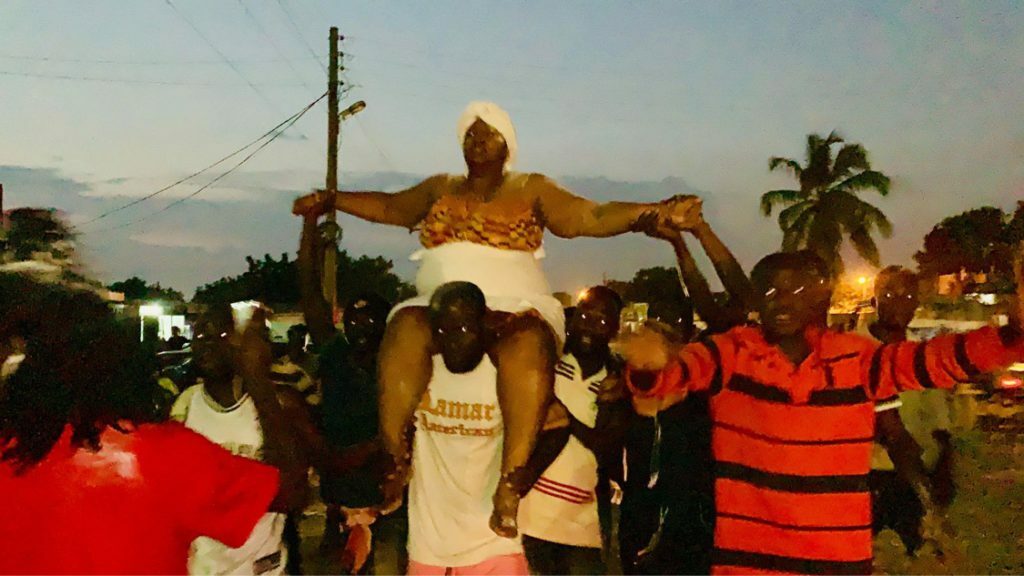 Do you have any final words?
Invest in yourself and your culture. We have many options. If you are unhappy here, go there. Find people, meet new people, love people, make a family.
And you have Ayekoo Afrique to teach you how to communicate.

There is no reason to fear anymore. This is our culture, our land and it's there for us to take.But we have to love ourselves, respect each other and show interest in the culture. And they will love you for it.

Don't believe the lies that Africans don't love us or (for Africans) Americans don't love you.That's my encouragement, for my own people to just Sankofa — go home.
Ayekoo Afrique stands as a symbol of love and oneness between all Africans in the Diaspora and Africans in Africa.
We think everyone on both sides of the ocean needs to hear what Naa Odey Tene had to say. We pride ourselves as the virtual bridge that connects to separate worlds on either side of the Atlantic Ocean. And this is why we choose to showcase positive stories of love between African-Americans and Africans.
When Africans and African Americans come together, beautiful stories like this are born. So, what's your story?